Have you been asking yourself how you can get a hold of the process of manifesting money once and for all? Then, this post is for you! You see, the process of money manifestation isn't as hard as you can imagine. Stay tuned!
Why do you want to manifest money?
First, I highly recommend you to start out by asking yourself why you want to manifest money. And also, as I always mention – to be crystal clear on what you want.
Your why is important because it creates focus. And helps you to stay focused. It helps you be persistent. And increases your vibration.
If you just say that you want to be wealthy and manifest money, it isn't effective at all. It isn't enough. It's too vague! Vague desires create vague or no results.
The process for money manifestation
If you've read my previous blog posts, this will be familiar to you. But repetition is good, that's how we learn. So here we go:
Clarity. Be clear and specific on what you desire.
Visualize and feel the feeling of having that desire now, beforehand
Let go of how and when your desire will manifest
Take aligned / inspired action towards your desire
That's it! Simple, isn't it? I love to keep things simple, instead of time-consuming rituals… Do you agree?
Mindset is key
When it comes to money manifestation, your mindset plays a big role. A huge role actually. Your mindset can make or brake your results.
What money story are you telling yourself?
How did your parents talk about money at home when you grew up?
How do you keep and spend money today?
The Money Manifestation Guide
So, my friends. I've created something special for you if you want to manifest money into your life. Are you excited?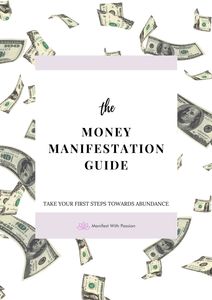 Since I like to keep things short and sweet, I've created a short e-book – "The Money Manifestation Guide" – which teaches you how to start manifesting money into your life.
It's easy, the steps are simple and everything is easy for you to implement in your everyday life.
Important note: This is NOT a get-rich scheme, if you're looking for a solution like that – I'm not your girl. I just wanted to make that clear, so that we are on the same page.
This e-book will be available for purchase on Friday, so hang tight!!
Summary
Money manifestation is the same as with any other manifestations. But your mindset can stop you from getting the results you're after. However, the process is as follows:
Know what you want, the exact amount
Visualize – live with your desire now, beforehand.
Let go of the how and when
Take inspired action!
And – if you want more money manifestation support, check out The Money manifestation Guide, which will be released on Friday, December 13th.
To your money manifestation success,
Anna
PS: You may also be interested in if you can manifest anything , how to manifest money effortlessly, or how do you do when your desire doesn't manifest.